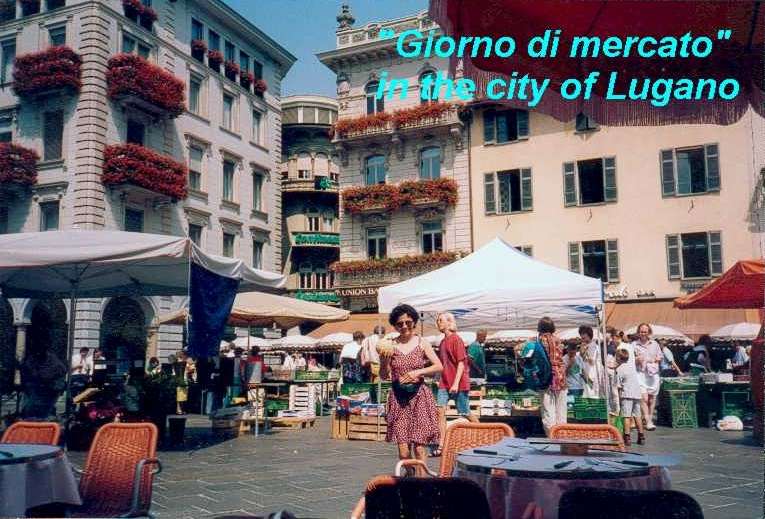 Lugano the city Lugano may be one of the most charming small cities of Europe (52'000 inhabitants, or some 100'000 in the greater Lugano area). It is situated in one of the most beautiful landscapes of Europe, surrounded by a splendid lake and mountain scenery. It enjoys a mild Mediterranean climate and beautiful subtropical vegetation, and is the tourist center of Italian Switzerland. Lugano is a very pleasurable place to relax, whether at its wonderful, partly palm-lined lakeshore, in its beautiful city park (equally on the lakeshore) and other parks, or in the pedestrian area of the old town with its welcoming piazzas, street cafés, and elegant shops. The meeting point in Lugano's pedestrian area is the colorful Piazza della Riforma (shown in the top picture), where events and markets take place and where people like to sit down in a café from the morning to late in the night and to drink a cappuccino or enjoy a gelato..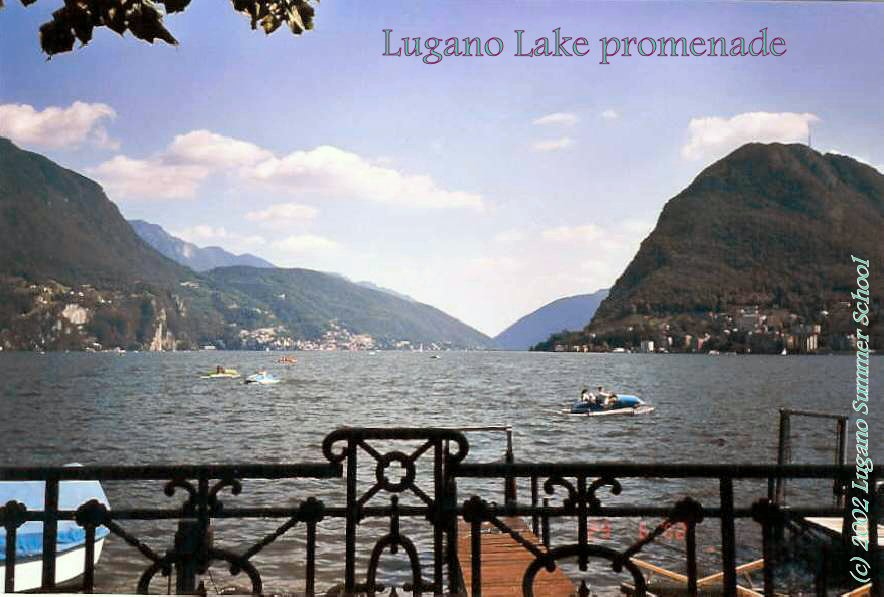 Lugano the region Lugano offers a great variety of excursions, among them boat trips to the many beautiful villages situated at the Lago di Lugano such as Gandria and Morcote; leisurely walks along the lake or in the surrounding mountain areas; cablecar rides to view points such as the Monte San Salvatore, the Monte Brč, the Monte Generoso and many others; hiking in the surrounding mountain areas; art museums and parks and gardens to visit; and finally, sight-seeing trips to the two other major lakes of the region, the Lago Maggiore and the Lago di Como, as well as to some of the beautiful towns and villages along their shores, such as Locarno and Ascona at the Lago Maggiore or Como, Menággio and Belággio at Lake Como; or visits to Italian market towns such as Luino (Lago Maggiore) or Porlezza (Lago di Lugano).
Other places of interest And of course, other major goals of tourist interest such as the cities of Lucerne, Zurich or Geneva and the breathtaking mountain scenery of the Engadine (St. Moritz), of the Valais (Zermatt) or of the Bernese Oberland (Interlaken between the Lakes of Thun and of Brienz) are also within a few hours' reach.
Finally, due to the central situation of Switzerland in Europe, major European tourist destination such as Milan, Venice, Florence, Rome, Paris, London, Barcelona, Madrid, Munich or Amsterdam are also within easy reach. A good number of these destinations can be reached very conveniently by means of the high-tech "Cisalpino" tilting trains. Pictures from some of these excursions can be found in the "Pictures 2002&2003" and "Participants' Photoalbum" pages.