Lugano Summer School

OF SYSTEMS DESIGN

Continuing Education in Systems Thinking

UniversitÓ della Svizzera Italiana (USI), Lugano, Switzerland
Additional Information
Note: This page is no longer updated. (See the "Announcements" page of this site.)
Current educational opportunities related to the aims of the Lugano Summer School
Information about Lugano and environment
Lugano city maps For many years we had access here to two useful interactive city maps. Unfortunately, these maps are no longer as good as they used to be; Lugano Summer School participants are therefore recommended to use the Google Maps service instead. You will find the University, situated at Via Giuseppe Buffi 13; click on the street name given heere or access Google Maps in your accustomed way and search in the map for "University of Lugano, Switzerland" (or, if you prefer, go to "Lugano, Switzerland" and then search for "Via Giuseppe Buffi, Lugano" or "University Lugano"). Note that in Italian language, the University's name is "UniversitÓ della Svizzera Italiana, Lugano" (University of Italian Switzerland, Lugano).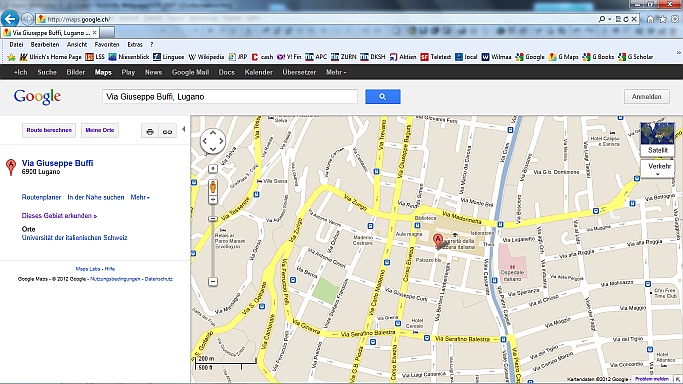 | | |
| --- | --- |
| Allows you to search for street names, piazzas, etc. Enter names without "via", "piazza" etc.; e.g., enter "riforma" for the "Piazza della Riforma" or "buffi" (+ No. 13) for Via Giovanni Buffi, where the University is located. For the university, you may also enter "universitÓ" or "USI." | A free and useful on-line map provided by a commercial on-line map provider. Maps can be zoomed and recentered easily as desired. |
Public transportation in Lugano Here you find an overview of Lugano public transportation and an interactive city map that allows you to search for street names:
TPL, Public Transportation in Lugano

A link to the site of TPL, Trasporti Pubblici Luganesi SA
(in Italian language only). Overview of bus routes, time tables, and tarifs.

Here you can download a PDF file with the map of all Lugano bus lines directly from the LSS web site.
Lugano weather updates Through the following two links you find current weather reports for Lugano and other regions of Switzerland:
| | |
| --- | --- |
| Current weather conditions and 5 day forecast for all regions of Switzerland, from the Swiss Meteorological Service. | Get a weather report and 5 day forecast for Lugano or other places of interest in Switzerland and Europe. |
Tourist information Some additional information on Lugano, the Ticino (Italian Switzerland), and Switzerland in general can be found in the following web pages:
The web site of the Lugano tourist organization.
Events, sightseeing, accomodation, etc.

The official web site of the city
(in Italian language only, English version in prep.)

The official web site of the Tourist Office of the Canton of Ticino. Events, sightseeing, accommodation, etc.

Excellent site with rich content. Use the search function to find information on places of interest such as Lugano, Locarno, Ascona, or others.
Information about studying in Switzerland
Interested in studying in Switzerland? Here you can find some basic information about all Swiss Universities:

Portal of the Swiss universities, providing basic information to international students who consider studying in Switzerland.