Lugano Summer School

OF SYSTEMS DESIGN

Continuing Education in Systems Thinking

UniversitÓ della Svizzera Italiana (USI), Lugano, Switzerland
Facilities and Accommodation
University Facilities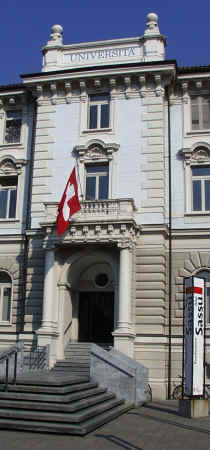 University of Italian Switzerland The Summer School will be held in the main building of the Lugano campus of the UniversitÓ della Svizzera italiana (USI). USI is a new University that was opened in 1996. There are two small campuses, one in Mendrisio (Academy of Architecture) and one in Lugano (Faculty of Economics; Faculty of Communication Sciences; and Faculty of Informatics). In Lugano there is also a Faculty of Theology, which however is organizationally independent of USI.
Location within the City The Lugano campus is situated conveniently within the city, in walking distance (10-15 min) from the heart of the city as well as from the Lake. The University address is: Via Giuseppe Buffi 13, CH-6904 Lugano (formerly "Via Ospedale"). In the on-line map of the City of Lugano, you can find the University in quadrant D4 (enter "universitÓ" or "universita" for University in Italian). Note that on some older maps, the new University is still not marked; in such maps the campus site is in the place of the former "Ospedale Civico" close to River Cassarate. More information on USI can be found in the USI web site www.unisi.ch.
Internet and computer access For those participants who bring along a notebook with WLAN equipment, it may be of interest to know that the Lugano University campus is a public hot spot. That is, there is an open-access WLAN that requires no pass word and is free of charge. Those without notebook will find desktop PCs with Internet access in the computer rooms of the University (in the basement of the main building). These computers require a user name and pass word, which will be assigned to the Summer School participants on the first day of the Summer School.
Intranet access, printing and email With their personal user name and pass word, participants will also gain access to the University's Intranet, which includes access to printers. There will be a shared Summer School space where participants will find readings, assignments, and other course materials. Each participant will also have a private space for storing personal files (e.g., assignments or papers in progress) on the USI server. For email connection, participants are advised to make sure that they either can access their permanent POP3 email account(s) through the Internet or else have at their disposition a web-based email account (such as Hotmail, Yahoo, or Gmail) to which they have redirected all incoming mail from their usual account(s). Since virtually every Internet user today has webmail facilities and since these can be installed free of charge with many providers, no special POP3 email accounts will be installed for the summer School participant.
Accommodation
Participants are expected to arrange their own accommodation. Self-catering holiday flats for two or three persons are available from about CHF 650 per week (approx. USD 650 or EUR 410). Rent is usually possible for entire weeks (Saturday-Saturday) only. Hotel accommodation in a simple but clean and friendly two- or three-star hotel will be available from about CHF 95 (EUR 60 / USD 95) per night for a single room, or CHF 150 (EUR 95 / USD 150) for a double room with bath/toilet and shower, including breakfast. Lugano also as a Youth Hostel which offers excellent value for the money (about CHF 35 / EUR 22 / USD 35 per night; inquire about long-stay discounts).
The suggestions below are for information purposes only. For additional information, please consult the web site of Lugano Tourism, where you can download catalogues of hotels and holiday flats with current prices.
Information on tourist accommodation can also be found in the web sites of the City of Lugano, of Tourism Ticino and of Lugano-online (a commercial site). You can also find these links, with short descriptions of the sites, on the "Additional Information" page of the Summer School site.
If you wish to contact the Lugano Tourist Office (= "Lugano Tourism"), you can email them at info@lugano-tourism.ch. They will be happy to help you with finding a suitable accommodation. Alternatively, your travel agent will assist you in finding and booking an accommodation that suits your exact requirements. However, should you encounter difficulties in finding appropriate accommodation, do not hesitate to request assistance by the Summer School. For participants who register early, the Summer School usually has a small number of "superior" standard holiday flats available.